IPL franchise Royal Challengers Bangalore's official Twitter account was hacked on Saturday. The hackers changed the display picture and also altered the profile name to 'Bored Ape Yacht Club'. Followers of the account got hint of the situation when they saw NFT-related tweets from it posted on their timeline. The hackers also retweeted some other NFT related users.
Official statement from the franchise read "RCB's Twitter handle was compromised around 4 am on 21st January 2023 and we have lost the access to the account for the time being. This unfortunate incident happened beyond our control despite taking all security measures recommended by Twitter. We do not endorse or support any of the tweets/retweets that happened from our handle today and we regret the inconvenience caused. We are working with the Twitter support team to resolve this at the earliest. We'll be back soon."
ALSO READ: Watch: Hyderabad fans come up with unique chant for home hero Mohammed Siraj amid stellar show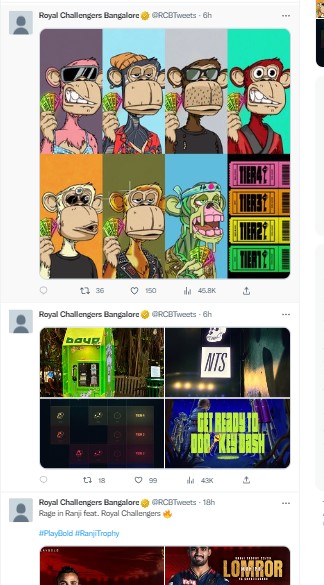 Twitter users reacted with their own posts around the the shocking incident and some of them joked around the situation too.
"RCB Twitter handle hacked.. team toh already hacked hai.. account bhi nahi sambhal pa rahe," tweeted one user.
""Someone hacked rcb's account and is now nft-ing their whole page," posted another fan.
"RCB brought nothing but shame to the City. One of the most successful teams in domestic circuit, but 0 trophies in IPL. IT Hub, but their own account gets hacked," wrote another fan.
"Karachi Kings now have a serious competition from another contender for title of the worst managed social media account for a franchise cricket team. Enter RCB who managed to get themselves hacked by Bored Ape Yacht Club," tweeted another user.
Meanwhile, RCB have limited access to the comment section on its posts. Interestingly, this is not the first occasion when RCB's account has been hacked. In September 2021, the account was hacked and the franchise were able to restore it.