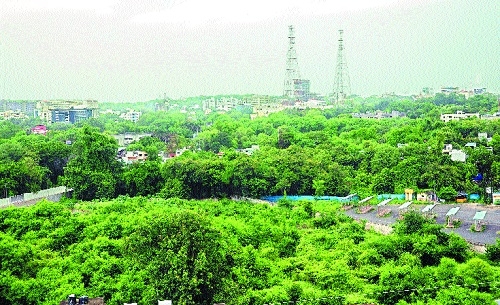 By Kaushik Bhattacharya
ON THE one hand the Central Government is allotting funds to Nagpur for improvement of its air quality and green
cover under the National Clean Air Programme (NCAP), while on the other hand, the Maharashtra Government is allowing authorities to fell large number of trees for different infrastructure projects.
In the recently held 4th State Tree Authority meeting in Mumbai, eight proposals for felling trees were received and all were granted green signal. The Authority accepted all the proposals and allowed Project Proponents (PPs) to fell 1,352 trees in the city.
Nagpur Municipal Corporation (NMC) has plans to construct a parking lot for its city buses behind the Mor Bhavan bus stand and for that it had sent a proposal to the committee to fell 1,014 trees.
The Authority, in the meeting, gave green signal to NMC and other PPs for cutting of such huge amount of trees in and around city with some conditions. The Authority has asked PPs to check options of transplantation instead of cutting of trees and also to submit the tree census report to the State body. PPs have been asked to plant new trees of native/indigenous species as part of compensatory tree plantation equivalent to the cumulative age of the trees which are proposed to be cut under projects. It also said, PPs should start the plantation of native/indigenous tree species which are not less than 6 feet in height as a part of compensatory plantation within fifteen days from the date of the trees being cut. PPs should ensure that the new trees planted as a part of the compensatory plantation should be geo-tagged and monitored using the latest technologies available and ensure that the trees survive for a minimum period of seven years, tree mortality during this period shall be compensated by planting as equal number of new trees, the authority further stated. The decision of the State Tree Authority has shocked environment activists and experts. The Greens are planning to raise their voice against permissions and take legal steps to stop it.
"There is lack of transparency in decision-making of local and state tree committees in conservation of green cover. We raised objections against these proposals but no one took proper cognisance of our objections," Prachi Mahurkar, ecologist, Punarnava Ecological Services and former local tree committee member, told 'The Hitavada'.
"The fate of these trees was pre-planned. The discussion in meetings first in local committee and now in state body was just an eyewash. We will now take legal steps to stop the mass demolition of nature in our city," Mahurkar further said.
Kaustav Chatterjee, Founder, Green Vigil Foundation said, "Permission to tree felling for all projects shows the committee is inclined towards infrastructure only. Nagpur Municipal Corporation's Garden Department promised to save 35-40 trees in NEERI premises but State Tree Authority decision does not have mention of the same."
Though the Authority has insisted compensatory plantation to be done as per recent amendment made in tree act but, there is a lacuna in the act, which says, compensatory plantation is to be done with in 15 days from cutting a tree. "Actually, compensatory plantation should be done at least two years prior to cutting a tree, so that city's green lungs are not lost," said Chatterjee.
"In spite of geo-tagging, monitoring of compensatory plantation will be a real challenge, which might result in collapse of the entire compensatory plantation programme," he added.
Chatterjee further said, "In recent past, very few have done compensatory plantation in a defined way. Further, taking such key decisions, sitting thousand miles away and without site visit is not justified."
Anasuya Kale Chhabrani, President, Swachh Association said, "This is just the pressure from the party in power. How felling of trees is the last option for all eight projects?" It is frequently seen in recent time that felling of trees was the only option for all projects that was going on in city. "Compensatory plantation is just an eyewash and not the sustainable way forward," said Chhabrani.